King and Sons Plumbing Melbourne – The Toilet Install & Repairs Specialists
A leaking toilet is not just an annoyance but is also a major water waster that can send a significant amount of money down the drain. This is a very common problem that can surface on commercial as well as residential properties and should be fixed without delay. If any toilets in your home or commercial establishment are leaking or have become blocked, simply call the experts at King and Sons Plumbing Melbourne without delay.  On board, our team, are licensed and insured plumbing professionals that can cater to all your toilet installation and repair requirements such as:
New toilet installations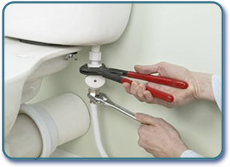 Upgrading an older toilet can significantly improve the appearance of your bathroom while saving you money. Old style single-flush toilets use approximately 12-litres of water/flush. Replacing these older model toilets with newer, dual-flush systems can easily save you up to 6-litres of water on full flushes & 9 litres on half flushes. When you choose to install a new toilet, you save a significant amount of money on your water bills which means the new installation pays itself off very quickly.
Unblocking toilets 
Toilet blockages are an extremely common problem that we all have dealt with at some point or the other. If the blockage is not treated on time, that can aggravate the problem and increase the trouble, time and amount you spend on getting it fixed. If you have noticed the water draining very slowly from your toilet, call the expert Melbourne toilet plumbing professionals at King and Sons Plumbing without delay. We use the latest equipment and technology in our work that helps us effectively and efficiently clear the most stubborn toilet blockages.
Toilet Repairs And Leaking Toilets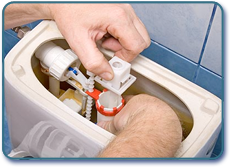 As mentioned at the start, a leaking toilet can be extremely annoying and it also wastes a lot of water. Failing to get this fixed can result in higher water bills and additional problems down the line. Our team of expert plumbing professionals can fix your leaking toilet and advice you on suitable upgrade options if needed.
When we handle toilet installation, repairs or replacements, you are assured of the best services. Top quality materials and workmanship will be used in every project and we provide guarantees for our work. While we maintain the highest quality, you will find that our pricing is extremely cost-effective.
For any more information about these and our other plumbing services feel free to contact King and Sons Plumbing Melbourne at 03 9993 7122.